Intranets, Extranets, Digital Experience Platforms with Liferay
Intranets, Extranets, Digital Experience Platforms with Liferay
MoreData implements Liferay solutions since 2007. Many digital transformation web projects have been developed and integrated: websites, intranets, customer and partners extranets.
Liferay is an open source Portal+CMS platform that allows any organization to develop a fully digital experience for all stakeholders.
MoreData's services in the Portal+CMS business include integration and outsourcing, and full-cicle services from requirements analysis, development and systems integration, to user training and support.
Websites with Liferay
Public / private websites (user management, groups, organizations, locations, roles, permissions, authentication);
All content types (HTML, WYSIWYG editor, Structures, templates, scheduling);
All types of documents and media (Documents, Multimedia, Metadata,…);
Workflow for Content Lifecycle Management;
More than 50 portlets "Out of the box";
Marketplace provides new themes and apps.
Web applications with Liferay
Application support platform (users, security, page and content management, mixed app + content layout, themes, inter-portlet communication, hot-deploy, Java API);
Service Builder, for rapid development of information management services and portlets
Apps / portlets can be developed in various languages ​​and frameworks (Java / JSP / JSF / Vaadin / GWT, PHP, Ruby), including Javascript frameworks (jQuery, Dojo, YUI, Sencha, and Sproutcore) and API access by SOAP or JSON
SSO Integration (CAS, LDAP / AD, NTLM, SAML, OpenSSO)
Collaboration with Liferay
Document Library
Discussion forums (categories, threads, captcha, RSS feeds, email notifications, etc.)
Calendar
Wiki
Recycle Bin (where all contents stay after deleted)
Blogs
Gartner Group rates Liferay open-source portal as one of the leaders
In their Horizontal Portals Magical Quadrant, Gartner has classified Liferay as a Leader for 7 years in a row. Since 2018, Gartner changed "Horizontal Portals" to "Digital Experience Platforms". Still, Liferay remains on the Leaders Quadrant, the only open-source product in there.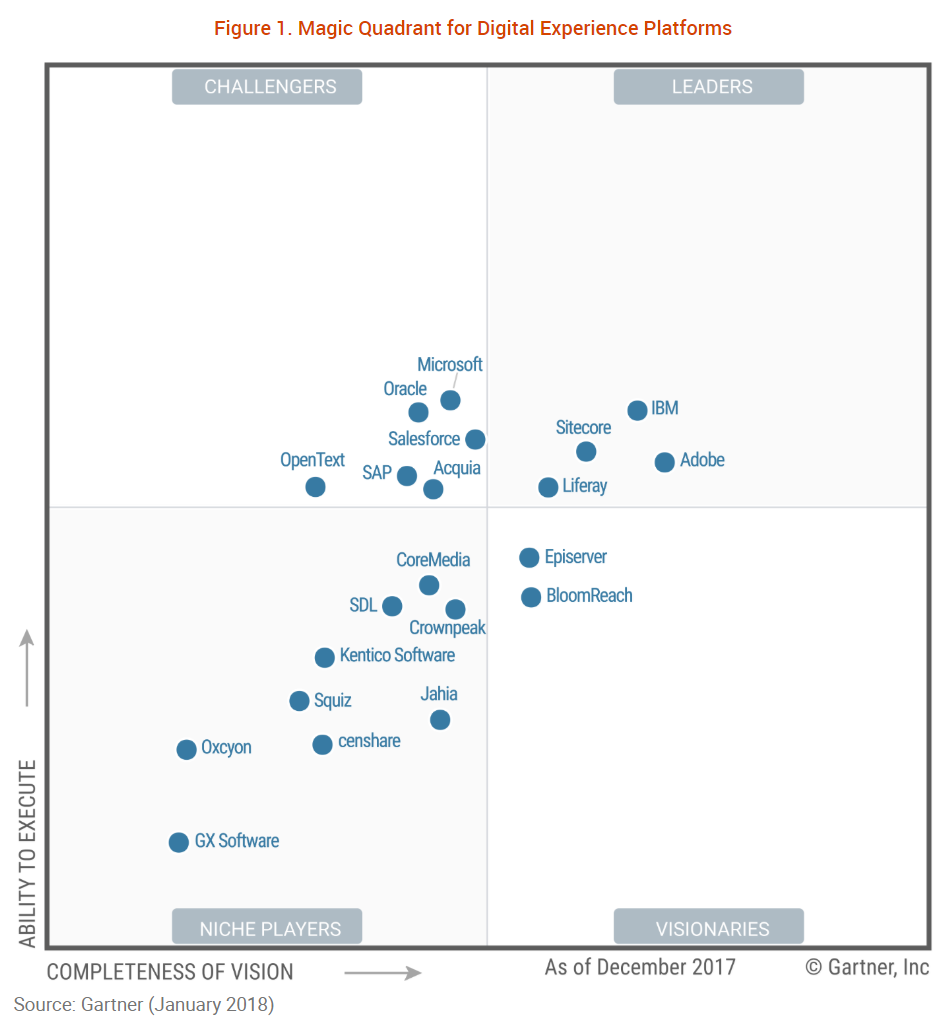 Performance and scalability
In all major releases of its products, Liferay performs a performance and benchmark study. For Liferay 6.2 EE, without the use of clustering, that is, with only one application server, the portal responds appropriately to the following scenarios:
10,000 Document Repository Users accessing 2 million documents
300,000 Users on 10,000 Websites with response times less than 50 ms
8,000 Users of Forums, Blogs and Wikis, with response times less than 800ms
In clustering, the portal can serve many more users and content, and the Liferay benchmark was made for the following situation:
One Million Users
Two million documents
Ten thousand websites, of which 50% have at least five sub-sites
Four million posts in forums
One hundred thousand blog posts with one million comments
One hundred thousand wiki pages
Liferay Services
MoreData provides support throughout the full life cycle of a portal:
Installation, configuration and tuning;
Content Management (website, intranet and extranet);
Themes and Layouts Implementation;
Application Development (portlets and mobile);
Training of users/managers/developers;
Turnkey Projects and Consulting.
Liferay Training
MoreData provides 4 courses on Liferay that are taught by instructors with project practice and pedagogical certification. The courses are as follows:
Installation, configuration and administration of Liferay portals, for system administrators;
Contents and documents management with Liferay;
Liferay themes creation, for designers
Creation of applications for Liferay portals, for developers
Contact Us
How can we help?